What's Happening At Simpson
FLEA MARKET
Simpson Church sponsors Iowa's largest indoor
Flea Market
at the Iowa State Fairgrounds 9 months out of the year. Dates and locations are listed below. (Due to remodeling of the 4-H Bldg. our location changes.)
If you are interested in renting a space, please contact Dave Sigmund
at 515-210-5224.
November 2 & 3 - Cattle Barn; Dec. 7 & 8
Come and shop - admission and parking are free.
TRUNK OR TREAT
October 30, 2019
6-8:00 pm

Our Church Family will be in the parking lot handing out treats from the trunks of their cars in the parking lot.
Come accross the street to the south door of the church for a hot dog and/or cup of chili!
QUILTING GROUP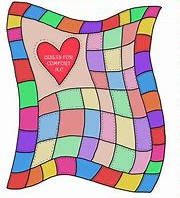 Our Quilting Group has made and delivered 18 tied quilts to Ronald McDonald House so far this year. We also make fleece hearts to be taken to the neonatal Unit at one of our hospitals. When holding their tiny ones, new mothers place the hearts right over their own heart for the baby to lay their heads on. Then when Mom has to leave the fleece hearts are put in the bed with baby so they always have the comfort of mom's scent.